As a designer, I'm always interested in packaging rebrand redesigns. Now, because we are in food marketing, I pay special attention to food packaging trends. I found that Newhope recently compiled several food packaging rebrands from 2020, so I started to swipe through them. I made a mental list of if I thought the packaging design got better or worse with the redesign. Often, I found myself thinking, "well, I guess everyone had time to waste in 2020," when I came across designs that didn't feel different enough to warrant the time and money.
I'm always curious to know what our art director, Kristy thinks, so I sent them along to her. And, just for good measure, we had our Marketing Coordinator chime in for a non-designer perspective. We'd love to hear if you agree or disagree with our feelings on the design.
Ancient Harvest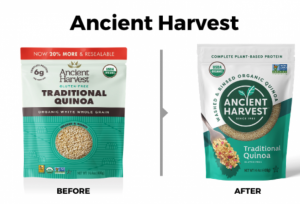 Ashley M-Designer
I think this is absolutely an improvement. The packaging rebrand design is more modern. The improved logo got larger but not in an obnoxious way. They were able to include a magnified photo of their product on the packaging without it feeling cluttered.
Kristy B-Art Director
First thought: Nice.
There are elements I like about both designs, but the new packaging feels more upscale. The subtle curve of the see-thru part is nice, and I like the addition of the fork with the food image.
Ashley B-Marketing Coordinator
I like the "after" better. For example, showing the quinoa in a recipe makes it pop more than just brown before packaging. Also, I think the circle graphic is more appealing to the eye. 
Ayoba-yo
Ashley M-Designer
"Oof," That is literally the sound that I made when I saw this. Unfortunately, the "before" design seems to feel a lot more like beef sticks than whatever-in-the-lion-king is going on in the "After" design. Their one saving grace is that you can see the actual product through the packaging.
Kristy B-Art Director
First thought: What the?!
No. Just no. Bad color choice on update. The first thing I thought of was Halloween. Definitely not beef sticks.
Ashley B-Marketing Coordinator
At first glance, I had no idea what this was. Anyone else? I like the colors better on the "after." I think it would definitely stand out against other beef sticks on the shelf. 
Barbara's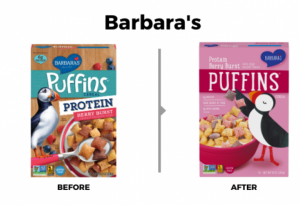 Ashley M-Designer
Hmmmmm… I don't really understand this one. It changed, but I'm not sure it improved. At first, I wondered if it was in partnership with breast cancer awareness because of the overwhelming pink, or maybe it was a different flavor, but nope. I honestly can't think of one thing that got better or worse. I guess the cartoon penguin is a little cuter on the "after," but mostly, this redesign leaves me asking the question…Why?
Kristy B-Art Director
First thought: Super-cute!
Both are fun! If 'cartoony' is what they are going for, overall, I do like the new one better. I prefer the cute illustrated puffin over the semi-real illustrated one on the old version. But I think I like the color combos and the fonts better on the original—they give it a little more playfulness and life.
Ashley B-Marketing Coordinator
Okay, I LOVE the Puffin peanut butter cereal. The "before" packaging actually looks very similar to the peanut butter brand. I think the pink box does a good job of showcasing that it is Berry flavored. Also, the puffin is cuter. 😊
Base Culture
Ashley M-Designer
To me, this feels like two designs that would be options in a choice of "Final Design Options," and based solely on design, and I'm not sure which I would choose.  I like them both, and I don't necessarily think one is better or worse than the other. This feels like they possibly expanded their line and needed to use color to differentiate between flavors. If this is the case, I'd say they did a lovely job!
Kristy B-Art Director
First thought: Good Evolution.
Nice update, but the old one was nice too. I love the new color. Love it. But the craft color was nice on the old one too. The font treatment definitely got better on the new packaging. I am glad they kept the elephant. I love him!!
Ashley B-Marketing Coordinator
I can't decide on this one. I like elements of both, and I like the callout of 4g net carbs on the "before." So many people want to know that if they follow a keto diet, I think it's important to include. But, on the other hand, I think the "after" does a better job of showcasing the brand. 
Beaver Brand
Ashley M-Designer
I'm really not loving either of these designs. The new packaging rebrand label is cleaner, but I wouldn't say it is more modern. It feels a little…clunky? Generic? I'm not sure of the right word to describe it, but it just isn't….pretty.
Kristy B-Art Director
First thought: Meh.
I am not crazy about either, which makes me sad… because I LOVE beavers! And, this logo is adorable. The fonts and logo updates are better, and the label is definitely cleaner, but that's all I got. Not in love with either.
Ashley B-Marketing Coordinator
Hmm, both look kinda old to me, lol. But, if I had to choose, I would go with "after." It has a cleaner feel to me. Also, the white background makes the content pop a bit more.
Bonafide Provisions
Ashley M-Designer
I really like both of these! However, I will say that I think the "after" design is slightly better for many reasons. First, I'm always a fan of showing your product with photography if it isn't feasible to have a partially clear label. Second, I think the hierarchy is a little more clear. You instantly know what the product is, followed by the brand, and all the nutrition information is clearly labeled at the top. Kudos to this designer!
Kristy B-Art Director
First thought: so-so.
The old one feels more 'comfort food-like to me. I think that's a good thing. The new one is more modern but feels slightly generic to me. With the addition of the photo on the new packaging, my mind went straight to 'soup-in-a-bag' first. I think I prefer the old design.
Ashley B-Marketing Coordinator
I definitely like "after." The veggies and soup look real. I like that the brand name is bigger. The blue bar across the package is also a nice element.
So what do you think? Were these designs better, worse, or just keeping bored designers busy in 2020? Stick around for more packaging rebrand reviews.
If you have any questions about making your packaging rebrand awesome and your brand cohesive, please reach out to the NewPoint team. Also, if you are interested in more food brand marketing topics, please visit our Food for Thought page or check out NewPoint's Patrick Nycz's book: Moving Your Brand Up the Food Chain.