When the pandemic hit the United States back in March, consumers immediately shifted how they regularly shopped for food and beverage items. With such a dramatic shift in behaviors, food brands should pay particularly close attention to these actions and act accordingly. Check out 4 ways COVID-19 has impacted the food industry.
1. Consumers are drawn to more local products
While "shop local" and "shop small Saturday" have been trending for some time, the pandemic boosted the movement even further. When COVID-19 hit the US, large chain stores soon saw a shortage in their supplies forcing consumers to seek out local suppliers to purchase produce and meats. In addition, shoppers were hesitant to venture to large, crowded stores. As a result, small scale food producers started to see a rise in sales beginning in April. More recently, neighborhoods have come together in order to support their local economy and willing local businesses to succeed. According to business.nextdoor.com, 49% or consumers have made a purchase specifically to support local small businesses during the pandemic.
2. Shoppers are turning toward digital methods
Digital grocery shopping began to rise at a rapid pace at the beginning of the pandemic. According to Statista, online grocery shoppers increased from 11% in the first week of March to 27% in the fourth week of March. Brick and Mortar stores can benefit from consumers' new behaviors by partnering with delivery services like Instacart and Shipt while food brands can implement digital coupons and email marketing strategies.
3. Consumers are engaging with more food brands on social media
It's no secret that people are spending more time at home and, therefore, more time on social media.  Brands have seen jumps in engagement with posts relating to how they are helping out during the pandemic. A post from Nuun highlighting their donation to first responders performed 30% better than the average Food and Beverage Instagram post before COVID-19. Pay attention to best posting times to get the most bang for your buck on social media.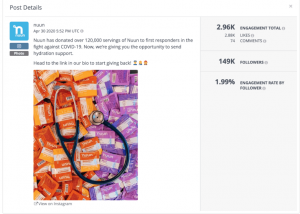 Check out https://newpointmarketing.com/engagement-on-your-food-brands-social-media/ or contact our team for a social media strategy tailored to your brand.
4. Successful brands will need to focus on products that are innovative and provide a good value
When shoppers are actually walking the aisles of grocery stores versus shopping online, they are doing so with less money in their pockets during the economic crisis. In a McKinsey survey conducted May 18-24, nearly half of US consumers reported cutting back on their spending. Because of this, shoppers are seeking out value and brands have a chance to respond. Not only do buyers want value but they are also looking for innovative items. People are cooking at home more than ever but many report getting tired of it. Brands like Hormel are taking this opportunity to launch new products such as Smashed Avocado and Skippy no sugar added peanut butter spreads.
Keeping the consumer interested and excited about preparing meals at home are important for brands to drive sales.
COVID-19 has impacted the food industry and food marketing in many ways. As the pandemic progresses and more research is available, there are sure to be additional ways the food industry has been impacted. From shopper preferences, to what retailers are doing to keep up, we have a long way ahead of us.