Win the Sale with CPG Private Label Food Packaging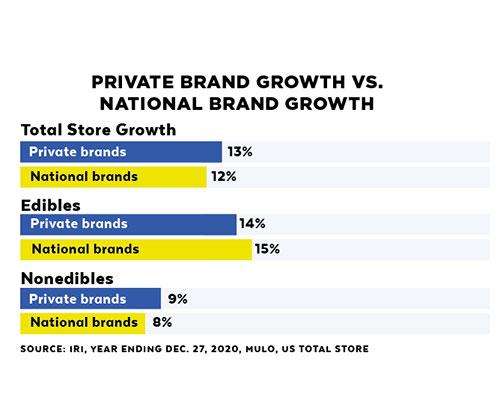 It's no secret that retail grocery private label brand's sales are skyrocketing.
Sure, that can mean competition from the very store shelf you hope to sell your food brand. Or it could mean an opportunity for the growth-minded food company looking for sales in multiple channels.
We talked with retail food buyers. Starting a partnership with a new customer start with a supplier's ability and willingness to provide private label products.
Is your brand qualified?
Here is a shortlist of some of the brands you might want to consider working to supply.
Costco's Kirkland Signature
Wal-Mart's Great Value
Whole Foods' 365 Everyday Value
Meijer's Meijer Gold
Target's 36 private or "owned" labels such as Archer Farms and Simply Balanced
Publix, Wegman's, Walgreens, CVS, Rite Aid, Family Dollar, DG, Giant Eagle, and Raley's all have private label store brands.
Like Trader Joe, Aldi is all private label brands:
Appleton Farms – Ham and Salami
Aunt Maple's – Pancake Mix and Maple Syrup
Bake House Creations – Refrigerated Biscuits and Cookies
Aldi Cookie Dough
Baker's Corner – Baking Supplies
Baker's Treat – Individually Wrapped Snack Cakes and Rolls
Bellissimo – Coffee
Beaumont – Coffee
Belmont – Ice Cream and Pies
Belmont Ice Cream
Benner – Tea
Benton's – Packaged Cookies and Ice Cream Cones
Benton's Crispy Coconut Rolls
Berryhill – Honey, Jelly, and Spreads
Bon Italia – Canned Ravioli and Pasta with Sauce
Breakfast Best – Frozen Breakfast Favorites
Bremer – Frozen Meals & French Onion Soup
Brookdale – Canned Meat
Burman's – Ketchup, Mayo, BBQ Sauce and Condiments
Carlini – Cooking Oils
Casa Mamita – Mexican Favorites
Cattlemen's Ranch – Beef Patties
Cheese Club – Mac & Cheese
Chef's Cupboard – Broth, Soup, and Boxed Sides
Hawaiian Stuffing Mix
Choceur – Chocolate & Peanut Butter Cups
Cook House – Cooking Sauces
Countryside Creamery – Butter and Cream
Dakota's Pride – Canned Beans
Deutsche Kuche – German Product Line
Earth Grown – Plant-Based Products
Earthly Grains – Boxed and Bagged Grains
Elevation – Protein Bars and Shakes
Fit & Active – For a Healthier You
Fremont Fish Market – Fish and Seafood
Aldi Nashville Hot Shrimp
Friendly Farms – Milk & Dairy Products
Fusia – Asian Favorites
Goldhen – Eggs
Great Gherkins – Pickles
Happy Farms – Cheese
Happy Harvest – Canned Vegetables
Journey To Thailand – Thai Favorites
Kirkwood – Chicken and Turkey Products & Chicken Breast Fillets
Little Salad Bar – Greens and Premade Salads
liveGfree – Gluten-Free Products
L'oven Fresh – Bread
Lunch Buddies – Fruit Snack and Lunchbox Favorites
Lunch Mate – Lunch Meat
Mama Cozzi's – Pizza and Garlic Bread
Aldi Breakfast Pizza
Millville – Cereal and Bars
Moser Roth – Chocolate
Nature's Nectar – Fruit Juice
Never Any! – Meat without antibiotics or steroids
Northern Catch – Canned Tuna
Park Street Deli – Hummus, Pickles, Dips, and Packaged Deli Sides
Aldi Atomic Pickles
Aldi Crab Rangoon Dip
Parkview – Hot Dogs and Sausages
Peanut Delight – Peanut Butter
Priano – Premium Italian Favorites
Pueblo Lindo – Hispanic Favorites
PurAqua – Water
Reggano – Pasta and Jarred Sauce
Savoritz – Crackers
Sea Queen – Shrimp and Fish
Season's Choice – Frozen Fruit and Vegetables
Simms – Jerky and Meat Snacks
Simply Nature – Feel Good Ingredients
Southern Grove – Dried Fruit and Nuts
Specialty Selected – Aldi Gone Gourmet
Stonemill – Spices and Seasonings
Sundae Shoppe – Ice Cream and Fruit Bars
Sweet Harvest – Canned Fruit
Tuscan Garden – Salad Dressings and Salad Toppings
Aldi Ranch Dressing
Village Bakery – Baked Goods
Winking Owl – Affordable Wine
If this list says anything, it's this: there is a place for every brand in private label sales.
Buyers and retailers believed that partnerships between themselves and the manufacturers they work to begin and develop in many ways. The private label option is often an essential factor. As one buyer we talked to said, "a true partnership should go beyond the branded product you offer." That said, you should think about your willingness and ability to produce private label brands.
If you have any questions or would like to learn more about selling your CPG food brand in private label food packaging or about NewPoint, please reach out to the NewPoint team — interested in food marketing topics? Also, please visit our "Intel" page or check out my book: Moving Your Brand Up the Food Chain.