Why and how to write your food brand's mission statement by answering these 3 questions and avoiding these common pitfalls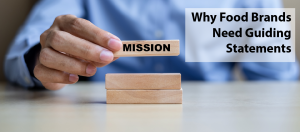 Although mission statements originated in the non-profit world, food brands have begun to utilize them. Having a mission statement allows them to be authentic to their audiences throughout their marketing strategy. (For more information on how to be authentic on social media, check out our blog.) So, what should food brands include, and not include, in their mission statements? What's the point? By answering the following 3 questions, and avoiding the 3 common pitfalls, your food brand's mission statement should launch your company in the direction you want to go.
What is a Mission Statement?
While the unwritten mission of every food brand in the world might be the same: crush the competition and make as much profit as possible, this isn't the only "mission" that should define your food brand. A mission statement is defined as an action-based statement that declares the purpose of a food brand, and how they serve their customers. Any employee should be able to convey who your food brand is and what they do during the time it takes to ride an elevator!
What is NOT a Mission Statement?
A mission statement should not be tied to the specifics; these should be detailed in your food brand's strategic plan. Although direction for business planning is found in the mission statement, the mission statement itself should not include specifics. And while the mission statement of your food brand explains why your food brand exists, it is not a summary of your services.
So now what?
We've talked about what a mission statement is, and what a mission statement is not, so how should your food brand go about writing one?
3 Questions Your Food Brand's Mission Statment Should Answer:
Who Are You?
What does your food brand do that makes you unique?
Where do you want your food brand to go?
We've found that the best way to get answers to these questions, is by asking your executives. Perhaps you need a retreat, or you know when you form your food brand. But by focusing on these 3 questions, you'll be able to write a mission statement that is clear and is a true guiding statement.
*For more guidance on how to begin discussions on your executive-level regarding these questions, please reach out to the NewPoint team.
3 Common Pitfalls to Avoid
Leaves little space for inspiration
Your mission statement shouldn't include specifics on where you want to go, but it shouldn't box you in either. Save yourself rebranding work down the road!
Lacks personality and fun
Again, remember to address what makes your food brand different from the competitors! Authenticity and brand transparency are essential to your audiences, so showcase what makes your food brand authentically you!
Uses buzzwords and jargon
Audiences tend to not respond well with legalese. Leave that language with your legal department! While your employees may know the industry terms you're trying to use in your food brand's mission statement; your consumers may not. You don't want your employees to be confused or to leave your mission statement up to interpretation, and you never want to seem unapproachable by consumers!
Examples of Great Mission Statements
Kroger 
Founder Barney Kroger's mission when Kroger came into existence was, "Be particular. Never sell anything you would not want yourself."
Today, Kroger's company mission is similar, but it provides more details on what the company does and why it's vital. "Our mission is to be a leader in the distribution and merchandising of food, pharmacy, health and personal care items, seasonal merchandise, and related products and services." While the mission statement does list what services Kroger provides, by adding "related products and services" the statement leaves room for growth. The audience knows that Kroger is in the food business, yet sells anything the consumer might need.
Starbucks
"Our mission: to inspire and nurture the human spirit — one person, one cup and one neighborhood at a time."
Starbucks has built a name for itself around the experience of coffee. By articulating that goal and purpose in their mission statement, their employees and consumers know that customer experience comes first to them.
Starbucks continues by listing what they value about each part of their operation:
Our Coffee – It has always been, and will always be, about quality.
Our Partners – We always treat each other with respect and dignity. And we hold each other to that standard.
Our Customers – When we are fully engaged, we connect with, laugh with, and uplift the lives of our customers – even if just for a few moments.
Our Stores – It's about enjoyment at the speed of life – sometimes slow and savored, sometimes faster. Always full of humanity.
Our Neighborhood – We can be a force for positive action – bringing together our partners, customers, and the community to contribute every day.
Our Shareholders – We are fully accountable to get each of these elements right so that Starbucks – and everyone it touches – can endure and thrive.
These are just 2 examples of great mission statements by food brands. If you have any questions or would like to learn more about guiding statements for your food brand, please reach out to the NewPoint team. If you are interested in more food marketing topics, please visit our Food for Thought page or check out NewPoint's Patrick Nycz's book: Moving Your Brand Up the Food Chain.