The food entrepreneur is hungry for more than their delicious products—they want to grow…
…and they want to grow NOW.
Registration for the NewPoint food entrepreneur conference, the Emerging Indiana Food Brands Forum Fall 2017, has exceeded our expectations hitting over 75% capacity just one week after opening full registration with about 5 weeks to go before the event. As my team, along with our partners at Purdue Ag Food Sciences and Indiana Grown spreads the word out about the event we hear the same question:
Why is NewPoint sponsoring a food entrepreneur conference?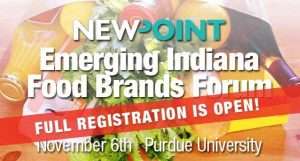 The short answer – to help local food entrepreneurs get on the retail shelf by answering questions about scaling their operations, ramping up marketing and ultimately, how to sell into retail.
Of course, there is a (not too) long answer…
We know from a number of market indicators — from macro and micro trends to good old fashioned sales numbers (all highlighted in my new book, Moving Your Brand Up the Food Chain™ section 1: Why Now for Local and Regional Brands) that the time has never been better to be a local or regional food company. And consumers are driving it – voting with their wallets as "Big Food's" market share is shrinking and more small food companies are launching into the market every day.
The result is forcing retailers to respond to consumer demand and source more local and brands. The NewPoint Emerging Indiana Food Brands Forum is about helping the food entrepreneur – who is hungry for growth – develop the right tools and chase that business.
The structure of the conference:
8:30-11:15 Morning classes run on two simultaneous tracks

Purdue Food Sciences: Scaling Operations
NewPoint: retail food marketing strategies and tactics

11:45-1 pm Lunch-n-Learn: Retail Buyer's Panel

Up to 6+ retail food procurement professionals talk about what they look for in new/local vendors such as best practices, do & don'ts, what to expect, etc.

1:15-4:30 Sample/Tastings for up to 100 vendors

10+ Buyers can trial samples and meet vendors
Stay hungry and looking forward to launching some local brands!