A "must-read" for local or regional food companies looking to get on – and stay on – the retail shelf and maximize the value of their brand."
Edward Reidy, President Happy Apples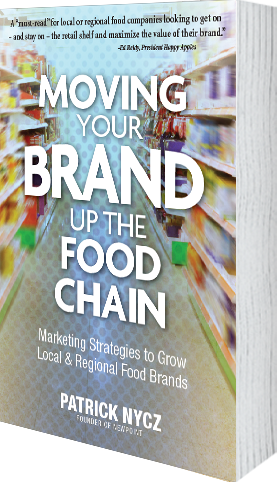 Small and Regional Food Brands:Get on the Shelf.
Stay on the Shelf.
Maximize Your Brand!
$24.95 Buy Now!
Moving Your Brand Up the Food Chain™ is for the local, small, and/or regional food entrepreneur knows that the time is now to accelerate growth.
Moving Your Brand Up the Food Chain™ was written with three things in mind for the food entrepreneur looking to grow their brand:
Embrace and leverage the "local food" trend
Better understand what factors drive retail food buyer decisions
How to use marketing to get on and stay on the retail shelf
This book is as a call-to-action for smaller food brands to leverage the growing locavore trend, expand market share and compete against national "big food" brands. (USDA predicts $20 billion by 2019!)
And our interview and surveys with retail food buyers agree that today's volatility will create big opportunities for emerging food brands, with some of them comparing the current rise of smaller food brands to the high-tech start-up boom in Silicon Valley not so long ago.
By investigating the perspective of the "gatekeepers"—i.e. category buyers—my book reveals how local and regional food brands can earn retail shelf-space in a fiercely competitive environment. Then—to maintain that space and promote shelf-velocity—I provide my team's expert guidance on how to build a loyal following in the age of the iPhone, touching on brand development, product packaging and other marketing essentials along the way.
All these evolving factors—the increasing influence of millennials, the desire for local products, and a distrust in "Big Food"—add up to significant leverage for local, small, or mid-sized food companies.
Now is the time to strike.
We interviewed retail buyers who said things like this:
"It's harder to compete with the big guys when you are a smaller supplier.
It's harder to expand into other markets, where consumers may not be familiar with your name versus a national brand. But a lot of the national (retailers) today want what's regional. So it can be done. Absolutely."
MM, Senior Buyer, 22 years' experience