In today's world, it is important to be able to use social media as a food brand marketing tool. Instagram has 1 billion active users and 500 million of those users use the social media platform daily (via Instagram). With this number growing every day, Instagram is becoming an attractive platform for marketers.  It has become the second most important social media platform, surpassing LinkedIn for the first time.  For the first time in the last 5 years, Facebook lost share as the most important platform for marketers. This is due to the steady growth of Instagram. (via 2019 Social Media Marketing Industry Report).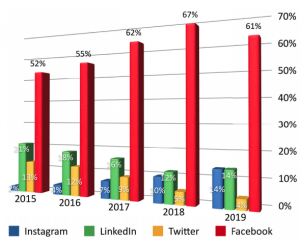 Instagram Advertising
Instagram is home to the most popular social media influencers which can be an effective marketing strategy for your food brand, but traditional ads are growing in popularity on the platform. According to Sprout Social, Instagram is ahead of Facebook with a median engagement rate of 1.60% per post for brands with videos get 21.2% more interactions compared to images and 18.6% more interactions compared to carousels.
Business to Consumer Marketing on Instagram
One area that Instagram thrives in is Business to Consumer marketing. This is shown in the graph below from The Social Media Examiner.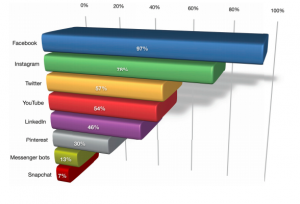 This can be attributed to the very shopper-friendly layout that Instagram offers, displaying 'shop now' buttons directly on posts. According to Yotpo Instagram data, 72% of customers believe that seeing Instagram images of a product increases their chances of buying it. This research also revealed that as many as 38% of customers said that they frequently buy products seen on Instagram. This is a reason why Instagram is becoming an attractive platform for marketers.
If you have any questions or would like to learn more about NewPoint, please reach out to the NewPoint team — interested in more food marketing topics? Please visit our "Intel" page or check out the book: Moving Your Brand Up the Food Chain.