The Benefits of a Sports Sponsorship for Your Food Brand
Like any non-football fan, I tune into the Super Bowl for two things; ads and the halftime show. Instead of diving deep into who lip-syncs and who doesn't, let's explore the ad side of things; sports sponsorships. Obviously, the brands that advertise during the Super Bowl have major budgets and can afford to spend money on the most coveted media placement in the U.S., but that shouldn't stop smaller brands from exploring opportunities in sports sponsorships for food brands.
What will your food brand get with a sports sponsorship?
Brand Awareness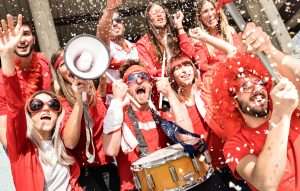 No doubt, you will increase brand awareness. And we know that awareness is the first step in the path to purchase. Having your food brand's advertisements in a stadium or other sports arena is an opportunity for a huge amount of exposure. Not only that, but the positive associations fans have with their team will transfer over to your brand. To predict the number of views in the stadium, take the average number of tickets sold multiplied by the number of games. Your partner organization should have the expected number already calculated in your contract!
Target Marketing
Target marketing is a great way to advertise to a specific audience. You are going to have a general consensus on what these sports fans like leading you to more effective marketing. Knowing your audience influences any slogan you'll use and the tone your campaign will want to take. Do some research to determine what sport fits best with your target market. Does your brand resonate more with football fans or basketball fans? Do they prefer a quieter game like tennis or golf, or want the excitement of cheering on their favorite baseball team? Identifying a new segment should come relatively quickly if you know your brand voice. Ensure that the sports organization's tone aligns with your food brand too!
Wide Range of Platforms
Sports marketing can reach millions. In addition to traditional advertising, like radio and print; social media platforms like Facebook, Instagram, and TikTok can generate even more buzz in a non-traditional way. Not to mention the views from television airings of games that will feature your food brand sports sponsorship materials! Your food brand should be sharing photos and videos featuring your sports sponsorship on your social media pages, but your partner organization should be thanking and acknowledging your food brand on theirs as well. Add social media exposure, radio, print, and television views and your food brand sports sponsorship's impressions should be significant.
What to consider while creating a sports sponsorship campaign
Placement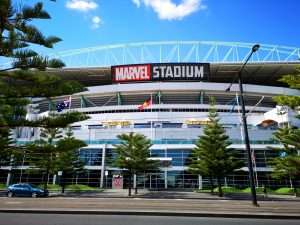 Where will your ad be placed in and around the stadium? Is it in a central location, like on the football field at the Super Bowl or on the basketball hoop during March Madness? Your food brand needs to ensure that your ad will be visible, especially during television broadcasts, which will get you those high exposure numbers that are the driving force of sports sponsorships.
If you have any questions about growing your food brand with sports sponsorships, please reach out to the NewPoint team. If you are interested in more food brand marketing topics, please visit our Food for Thought page or check out NewPoint's Patrick Nycz's book: Moving Your Brand Up the Food Chain.