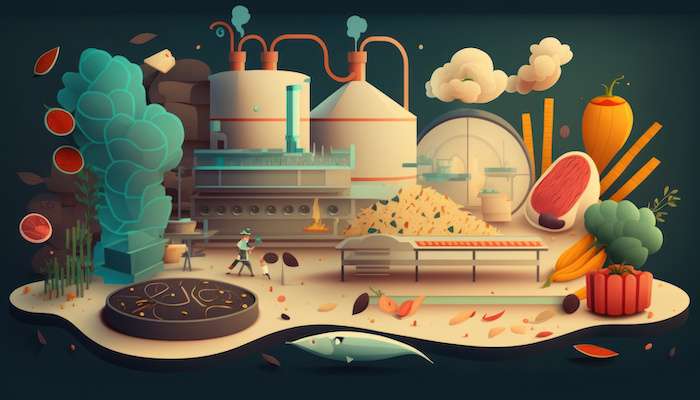 Unlock the Power of Food Industry B2B Marketing: A NewPoint Marketing Guide
In the ever-evolving landscape of the food industry, where competition is tough and customer preferences are continuously changing, business-to-business (B2B) marketing plays an essential role in assisting food brand business owners and marketing experts in accomplishing their objectives.
We are NewPoint Marketing, a proven marketing agency specializing in the food sector and offering a wide range of marketing services. We are dedicated to the success of our clients and accomplish this goal by providing a comprehensive, one-of-a-kind approach to B2B marketing in the food industry to help grow sales and gain market share for our clients.
1. Understanding the Problems Facing Your Target Market: Retail, Restaurant and Foodservice Operators
The leadership of food industry businesses, brands, and marketing professionals employed in the food industry—the makeup of NewPoint Marketing's core client base—make up the supplier side of the food industry and have a vested interest in supporting their customers. Foodservice B2B marketing presents its own one-of-a-kind set of obstacles. The clients of NewPoint Marketing receive assistance from the company in illustrating how the problems that foodservice consumers, chefs, and restaurant owners face may be solved with the use of their food or beverage goods. Utilizing this approach helps ensure marketing operations successfully communicate with the intended audience. Restaurant and foodservice operators and retail operations like supermarkets and grocery stores contend with unique challenges within the food industry. Operational efficiency remains a common pain point, as they must continuously juggle customer service, staffing, and supply chain management to ensure seamless operations. Rising food costs, changing consumer preferences, and intense competition add further complexity, necessitating adaptability and innovation.
NewPoint Marketing has a history of partnering with our clients to address these multifaceted pain points and specializes in crafting customized B2B marketing solutions that cater to the distinct needs of restaurant and foodservice operators and retail operations such as supermarkets and grocery stores, empowering them to thrive in the ever-evolving food industry landscape.
2. Lead Generation and the B2B Marketing and Sales Funnel
Lead generation is a primary objective of many marketing services, including B2B ones. NewPoint Marketing can aid its clients in locating new business prospects and leads that can be utilized to fuel the numerous sales funnels they operate. This method is consistent with the broader objective of increasing sales in the food and beverage company, which is one of the target markets for this strategy.
3. Services Tailored to Your Specific Advertising and Marketing Needs
NewPoint Marketing is knowledgeable about the many distribution methods that can be utilized in the food and beverage industry. Various sales channels fall into this category, including retail, foodservice, private label, institutional, and hospitality sales. To cater to the varied requirements of its clientele, the advertising agency provides individualized B2B marketing solutions centered on particular distribution channels. This helps to ensure that each customer's specific needs are handled effectively.
4. Your Brand's Position
When engaging in business-to-business transactions, a solid, well-researched brand position is essential for differentiating oneself from competitors and standing out. Together with its clients, NewPoint Marketing develops a unique identity and value proposition for each business it represents. This paves the way for improved B2B marketing communication regarding the client's most important advantages and characteristics with the client's intended audience.
5. Balancing Traditional and Online Marketing
The team at NewPoint Marketing works hard to find a happy medium between the more traditional and modern approaches to B2B marketing. The firm can get profound insights into the preferences and information sources of the target audience by employing research approaches such as focus groups, interviews, surveys or questionnaires, and social listening. This strategy, which is driven by data, helps to ensure that B2B marketing campaigns are as successful as they possibly can be.
6. Adjusting to the Recent Developments in Social Media
NewPoint Marketing stays ahead of the competition when it comes to the ever-evolving social media platforms by monitoring trends and becoming familiar with the information sources that the audience that the company's clients are trying to reach uses. Adaptability helps ensure that marketing activities continue to have a powerful impact in their respective fields.
7. Storytelling is Integral to Connecting to Your Audience
Storytelling is an integral part of NewPoint Marketing's marketing strategies and methodologies, and the company uses it to engage with business-to-business and business-to-customer audiences. The agency generates fascinating narratives that appeal to target consumers by addressing pain areas and supplier requirements.
8. Research in Marketing That Is Guided By The Data
The B2B marketing tactics developed by NewPoint Marketing are heavily dependent on data. The company places significant importance on utilizing sales history, trend research, survey data, and A/B testing when developing effective marketing programs for its clients. When you use this data-driven approach to marketing, you can rest assured that your marketing initiatives will be based on insights and proof.
9. Utilization of Currently Available Technologies
NewPoint Marketing embraces technology to streamline its business-to-business marketing activities. This involves the utilization of artificial intelligence for creativity and assisting in generating content for platforms such as email and social media, as well as using quick surveying platforms for testing concepts. Automation in marketing is used because it is efficient and helps enhance productivity.
10. B2B Meeting Prep
Combining key performance indicators (KPIs) and stories is necessary to succeed in business-to-business (B2B) sales meetings. NewPoint Marketing creates strategies combining narrative and analytics to offer engaging and persuasive presentations while boosting the likelihood of success.
Your Guide to Food Industry B2B Marketing
In the highly competitive marketing industry for the food sector, NewPoint Marketing stands out by providing one-of-a-kind services adapted to work with all distribution channels. These services are accessible, ranging from food and beverage branding for retail establishments to foodservice and commercial food equipment. The company is well-equipped to assist food brand business owners and marketing professionals achieve their goals of increasing sales and gaining market share. This is possible due to the firm's "strategy first, sales always" philosophy, which states that sales should always come first. NewPoint Marketing's ongoing success in the food industry may be connected to the firm's capacity to identify the unique obstacles that the target consumers of its customers encounter and design customized marketing strategies to tackle those problems. In other words, the company can cater its marketing efforts to the issues.
In the fast-paced and cutthroat food industry, NewPoint Marketing is a dependable partner dedicated to assisting food brand business owners and marketing professionals in overcoming obstacles and achieving their goals. While adhering to the notion that "strategy first, sales always" should guide the decisions made by a corporation, NewPoint Marketing creates individualized solutions to increase sales and market share across the entirety of the food industry's sales channels. They ensure that their marketing activities yield accurate results by first gaining an in-depth comprehension of the challenges faced by their clients' target audiences and then putting in place a data-driven strategy geared toward resolving those challenges.
Is it time to rethink the B2B marketing methods that your food company uses? Contact NewPoint Marketing immediately to take advantage of their free B2B marketing consultation. This is the first step on the path that leads to increased sales and market share.