Your Questions Answered: Q&A 1st Round – Vetting a Co-Packer 101
Many Emerging food brands we talked to since our first conference have been out-growing their commercial kitchens and are trying to decide between expanding their operations or moving to a contract manufacturer or co-packer. Both routes come with risk.
While financing operational growth by building out a plant is a significant investment, most folks say they are interested in exploring that route so they can maintain high-quality product standards. But are they correct? Will the product suffer in the transition to a co-packer? There are a lot of questions about working with co-packers, and emerging food brands brought them to the NewPoint Emerging Food Brands Conference.
Questions about co-packing? The content of this Vetting a Co-packer & Best Practices for Growth portion (and all program content at our conference) was submitted as questions during registration by the 64 food company/brand attendees.  Our expert presenters then addressed the questions—and more—in their programs. In the coming weeks, we'll be posting each presentation to the "Intel" section of our website. So check back often!
Let's start by introducing the experts.
Erik Kurdelak: Manager of the Pilot Plant in Purdue University's Department of Food Science.
Area of expertise: Food manufacturing and food operations including but not limited to thermal processing, frozen foods, ready to eat products, food distribution, food process improvement & optimizations.
Erik Kurdelak is currently the Manager of the Pilot Plant in Purdue University's Department of Food Science. In addition to his work in the Pilot Plant, Erik also manages the Food Science Department's Skidmore Sales and Distributing Food Product Development Laboratory. Erik earned a Bachelor's Degree from Purdue University Food Science in the field of Food Manufacturing Operations in 2001, and he is certified in Food Microbiology and International Food Law by SLU (Swedish University of Agricultural Sciences).
Since graduation, Erik has held leadership roles in very large scale, in moderate scale, and in start-up scale food manufacturing operations. Erik serves on the Executive Board for the Indiana Section of IFT (Institute of Food Technologists), and he is the Owner & President of Food Manufacturing Solutions, LLC, providing food manufacturing consulting services to the industry.
John Wisler: Consultant for the Food and Beverage Industry under Food and Beverage Consulting LLC, advisor to the Food Processing Supplier Association (FPSA) and International Society of Beverage Technologist (ISBT) supporting companies in the United States, New Zealand, China, and India. A graduate of Purdue University in Agriculture, in his 43-year career with General Foods becoming Kraft Foods and Modelez through acquisition and mergers, provided the product and processing development for many current products. John is past president, director, and current advisor of the International Society of Beverage Technologist, as well as past and current advisor to the Food Suppliers Association.  He is also supporter of the Food Science Department at Purdue University.
Area of expertise: Product and processing development with emphasis on beverages, baking, and dairy products. This included a range of products utilizing dry mix, drum drying, agglomeration, spray drying, freeze drying, pasteurization, hot fill, and aseptic processing, retorting, carbonation, baking, and others. This activity encompassed both parent company and contract packers in the United States, Canada, Japan, Korea, and Europe.
Prior positions included Research at Miles Laboratories, now Bayer Chemical. Retired from General Foods, Kraft, Kraft Modelez after 43 years in research as a research principal, which involved new product start-ups, line extensions, product improvement, new ingredient applications.
Mike Albregts: Owner at Pinhook Foods LLC, his focus involves food product development and manufacturing.  Mike is a food industry consultant and a Purdue Food Sciences Alum.
Vetting a Co-Packer 101 Question #1: I'm a new company. How do I partner with a co-packer?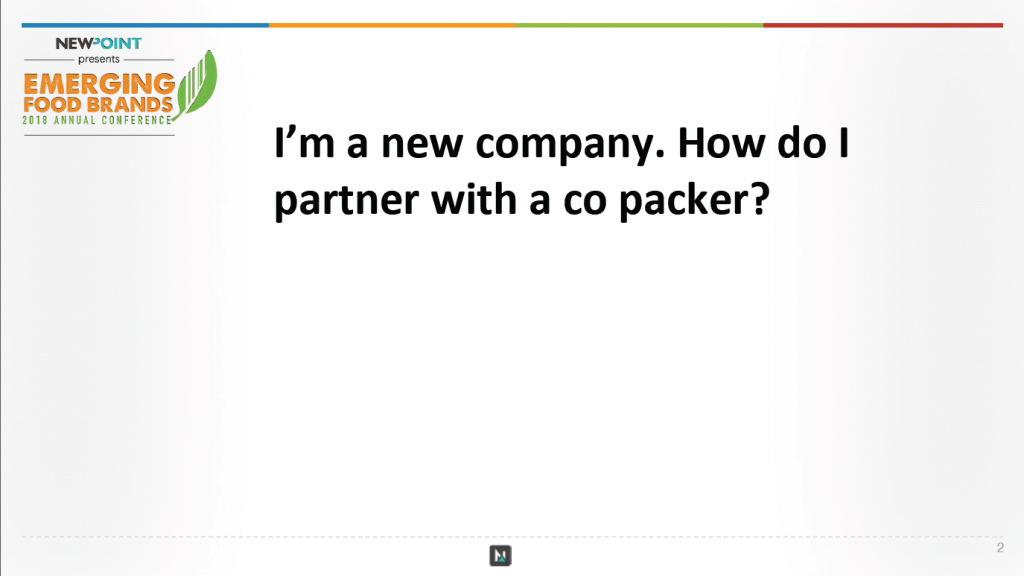 From Erik Kurdelak:  When a co-packer says, "Tell me about your product," they are not looking for this answer: "Hey, it's a wonderful teriyaki sauce." They don't care that it's a tasty teriyaki sauce. They want to know about the product; what's the PH, what's the viscosity, what's the color values, what's the flavor profile, what's the shelf life? Tell me, scientifically, about your product. It's so we can make sure that we can map out some unit operations to move those set of components into this set of defined values.
You should also consider what are your "flexible points." Let's say you've got some specialty ingredient and do not want to consider changing that ingredient. "I am using monk fruit in my product, no matter what, because monk fruit is special to me in some way." What does that co-packer have on their shelves that can get very close to your original recipe? What do they have regarding ingredients? Do you have wiggle room? Don't think of it in terms of absolutes, think of it in terms of control limits. So, your ideal product exists here on some process mean, you're going to have an upper limit and a lower limit on quality issues, so how much play are you willing to provide that co-packer? So, these are things. I mean, how do you partner with a co-packer? You prepare yourself, your product, your company for those hard conversations.
Also, be prepared for a co-packer to tell you, "My minimum run is 90,000 units, 50,000 units." So you need to think about volume. If you do produce it, do you have actual sales? Do you have open orders that are waiting on that product? What are we going to do with it? What's the associated ingredient cost? Packaging costs? All those types of things.
It's your product. You get to define what all those attributes should be, your viscosity and all the rest, but you also have to make sure that you always start and end with safety. We make that product safely, that is the first priority. Make the product safely, get it there on time, if you have a chance you make it pretty. Right? So, I mean, that's the way this really has to push out. Obviously, we don't want to minimize quality standards, but I'm an operations guy, I'm a production guy, and that's the way that we've got to run through this.
John Wisler: Keep in mind, when you have the product that you've been making in a commercial kitchen you're probably "cooking" a "recipe." To scale that you're going to need a minimal percent formula and you're also going to have to work through the process. If you want to make sure your quality is good out here, there are checks in between that you can make to get there. I call that "in-process specifications" based on the unit operation. If I go from A, to B, to C, I don't want to find out down here I got a disaster on my hand. I want to know where/what that is, and therefore I potentially can fix it or find out how.
Very simply: I have a dry mix,  I mix it up, and I take a measurement. It doesn't meet the specifications. Well, guess what? It's probably not mixed long enough. I've got to stay on it; those times have to be identified and validated. The word is validate, validate, validate. Get that in your head if you're going to do this, because with a co-packer, that's what you want to be able to do, validate.
From Mike Albregts: I usually get a sample made. Most times, the co-packer I'm dealing with has that ability. I go to the R&D bench. I give them a complete or partial recipe or a formulation because maybe we're making a change to a product that somebody's already making. But I give them a sample ahead of time that's going to be representative of what they're going to make in the plan.
You may have to go to a small pilot plant test as well. When you blow your recipe up a little bit, you might want to talk about doing that as well. I get from one bottle, one 18 ounce bottle of my special stuff or a pound and a half of my special stuff, what's the minimum size I can make in a plant that's going to represent 10 pallets a run, or a truckload run?
Vetting a Co-Packer 101 Question #2: Where can I find a Co-Packer?
Mike Albregts: Well, that's difficult in itself, because you've got to find a co-packer that can pack the right size and volume of products that you need, and put it in the right vessel that you need it in, whether it be glass, plastic, or some hermetically sealed typed product. Honestly, you've got to go to the internet. That's where I've looked in the past, that's where I established some relationships. You've got to pick up the phone and you've got to call them. You say, "This is what I make." It would help to know their water activity, PH, is it an acidified product, is it not acidified, does it have allergens in it? All these things are important when you have that first conversation with the packing plant.
Erik Kurdelak: There is a fixed amount of flexibility within the co-manufacturers.
Some co-manufacturers produce their own product as their main income source and do a little co-packing on the side. If this is the case, their product run is going to take priority. They've got to fill their own customer orders, and then, when an opportunity presents itself (like you) they're going to be able to bring in small batch runs from outside parties.
Others are strictly co-manufacturers but may have unusual equipment to what you're accustomed to. For instance, they may have an in-line mixing pump, and you're used to mixing things with an orbital mixer. The outcome may result in dissimilarities in the product, not only through scaling but through different equipment selection. So you've got to make sure that they actually have what your product requires for production, or you have to be willing to be flexible within what those product requirements are. As the owners of the product, you guys get to define those, and I encourage you not to pin them down so tightly that you're putting yourself in a position that nobody can produce your product.
For reference, there are things like the Contract Packaging Association. There are a lot of online resources, as mentioned by Mike, and certainly, your extension offices. All the states are going to have extension offices; all the counties in Indiana have their own extension office. There are a lot of places where people can give you some direction and some guidance, so you know what those options are. Of course, we can talk more about that, and we have a co-manufacturer pre-approved.
Chris Nutly (President of MSW Packaging): The Contract Packaging Association is a non-profit organization of contract packagers, contract manufacturers–it's nationwide. There are approximately 1,800 contract packagers in the US. CPA only represents about 250. So there's a lot of them out there.  I served as President of that organization for three years, so a part of me is here because I'm interested in developing more contract packaging business. That's a resource where, you know–being in the mid-west, Contract Packaging Association exhibits at Pack Expo, which is in Chicago later in the month of October.  So if you go to that show, you're looking at equipment and things like that. To go to that show, look up Contract Packaging Association. They have a booth there. It's a free service so you can practice that request; you can do searches.
John Wisler: It works the same way with the Association on Contract Beverages. I was president of the International Society of Beverage Technologists for 12 years.
The "Fine Print"
We offered this caveat in our Social Media Marketing Workshop Q&A series, and they need to remain a constant as we post our answers to your questions:
Every brand and company is different: The experts here are addressing general questions from a wide variety of companies. Use their advice and guidelines as a starting point.
This post is by no means all you need to know. There are a ton of great resources to draw advice on when considering a co-packing solution. The above are a few questions that food attendees asked about for this co-packing and operations workshop. Here are a few more awesome references for more intel:
That's it for the first few Vetting a Co-Packer Workshop questions. Thank you for joining us! We will be posting more workshops in the coming weeks!
Want to talk about co-manufacturing or maybe walk through something in this post? I'd love to hear from you. Contact me at patrick@newpointmarketing.com.
And, as always, Keep Moving Your Brand Up the Food Chain!

Patrick Nycz
Founding President
NewPoint