What is Shopper Marketing? Let's define it. 
Shopper marketing is a discipline that focuses on the customer experience and the customer journey.
It's an extremely powerful sales-growth engine for food brands and is different from traditional advertising and promotion. Brand managers and retail experts alike, focus on making appeals to shoppers at the very moment they're considering buying.  Other forms of marketing try to increase overall awareness and affinity for a brand or product.
This concept has been around for a long time, but it has only recently been better defined, understood, refined.  More importantly, the retail industry emphasizes these programs. Many retailers offer specific shopper marketing programs that are unique to their store.
What exactly does "shopper marketing" mean?
At the core, shopper marketing is used to influence behaviors. It can take many forms, depending on the product and retailer.
This form of marketing, as an effective practice of influencing people to buy, continues to evolve and become more powerful. Marketers are getting better at defining the ideal prospect. Focusing on that prospect ensures more dollars go into reaching only those we want to reach.
That power is further enhanced when the ideal target is in "buying mode". We're talking about the old saying, "Strike while the iron is hot."
This is what shopper marketing is all about.
It's about getting in front of your target not as a consumer but as a shopper. A good shopper marketing strategy recognizes there are a number of touchpoints that have the potential to reach and influence shoppers.
Who implements shopper marketing?
Manufacturers' sales & marketing teams and retailers are the two groups that will be most interested in shopper marketing. To persuade shoppers, manufacturers will consider the price and packaging. Manufacturers use tactics such as coupons, in-store signage to make their products stand out. Whereas, retailers are trying to emphasize a store rather than a product.  They want customers to choose their store over another, spend as much money as possible, and return for repeat business.
Brands that struggle to master shopper tactics typically do so because they are only attacking marketing from one angle, either sales, marketing, or from the retailer side of the equation. Often, shopper marketing tactics are first driven by sales, but they won't include the marketing teams, they'll just let the retailers pick and choose the programs.
The problem is they don't know the brand as well or know about other marketing initiatives going on that could hurt or benefit a certain program. Conversely, if only marketing attacks the opportunity, they may not be aware of product shorting or other issues and most of the time the sales team often doesn't understand how to use it in their sales efforts.
In either case, you're not optimizing your spending.
Leveraging Shopper Marketing for Your Food Brand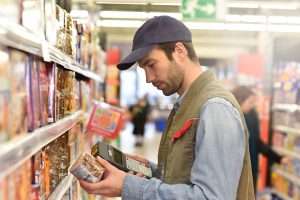 To fully leverage the power of shopper marketing, sales teams, retailers, and marketing teams must all be in alignment, or what I call the Shopper Marketing Trifecta.
Most often, the process of developing a shopper plan begins when a sales representative comes back with an inquiry or specific need after a meeting with a retailer. Sometimes the process starts when the brand team has a lump sum of marketing dollars automatically earmarked for marketing.
But, even in cases like that, the strategy should consult with the sales department, those who are directly engaging the retail buyers. However, the marketing team should coordinate all efforts. They know all the other marketing tactics throughout the year and are uniquely positioned to schedule shopper programs that work in concert with other media components.
The marketing teams also know the seasonality of products, for example, and will plan accordingly to maximize spending.
Retailers Perspective
From the major nationals to the regionals and on down, every retailer has its own idea of a marketing program. They typically have an entire menu of tactical elements ranging from end-cap displays to website banners and everything in between.
Navigating the costs, gaining buyer approval, and actually executing these programs is where the marketing game becomes tricky. Services are priced differently depending on a number of common factors.  The number of consumers reached, where the promotion takes place (online or in-store), and the duration of the program are factors in determining brand participation.
What drives the differentiation of these programs is how each retailer sees its own customer base. The profiles, preferences, and buying behavior of its shoppers are considerations of a retailer.  Much like how you need to develop solutions with your BRAND shoppers in mind, retailers do the same and have a deep understanding of what generates their shoppers' responses.  They get most of these insights through analysis of loyalty card data.
This is key to engaging with shoppers at multiple touchpoints along the path to purchase.
Why is shopper marketing important?
Shopper marketing is important for both retailers and brands because it's the sum of marketing tactics that focus on persuading customers to make a purchase. These shoppers are also increasingly demanding a better, more personalized experience from retailers and brands.
Shopper marketing is also important because it helps to create a relationship with your shoppers. This relationship is ideally based on trust. When a shopper trusts you, they will be more likely to buy from you.
Focusing on the shopper through their behavior is an important challenge for retailers and brands, especially considering that brand loyalty is up for grabs.
So why is shopper marketing so important?
 1. It's much more engaging
Shopper marketing is more engaging because it focuses on what the shopper wants, needs, and likes instead of just promoting a product.
I'm an avid Target shopper, and I participate in the Target Circle Rewards program to get the best deals and coupons on all my groceries and other consumer goods. I'm constantly served "recommended for you" coupons and ads, not only on items I've purchased before, but also "like" products and competitor products.
Taking it one step further, Target's marketing teams, then, use my shopper data on other platforms to catch my attention. Take Facebook. I often see ads for recommended items, and yes, it catches my attention because they're from my retailer of choice.
Today, in the age of big data, you can know more about your shopper than ever before to better target your marketing efforts. You can find out who they are, where and when they shop, their attitudes and interests.
All this data allows you to pinpoint your marketing efforts rather than casting a wide net of people who may or may not buy your product or even shop in the category.
2. It increases brand loyalty and customer satisfaction
Let's say, initially, for a couple of years, your marketing goal was to drive trial. At some point in the success of that effort, the goal should evolve to converting those consumer samplers into users and, eventually, brand loyalists. Shopper marketing is a great way to do this.
Prior to planning a shopper marketing campaign, it's important to answer questions about what channels your customers are using.
Does the target use a "click and collect" digital shopping method? If so, perhaps serving that shopper meal-inspiration recipes on a retailer's site makes sense. If your shoppers are more of a brick-and-mortar audience, a 'shelf talker' sign announcing the launch of your loyalty club with sweepstakes is a great way to shepherd them towards becoming brand loyalists by getting them to engage with your brand outside the store.
By understanding customer needs, you can create content that is relevant and useful to them. Creating a roadmap of the shopper's journey will help you better understand your customers and their needs.
 3. It increases sales
All marketing programs are designed to drive sales. However, shopper marketing programs are where the rubber hits the road.  Representing the one tactical interaction that is closest to the actual purchase moment.
Many marketing programs developed to drive sales have measurable quantifiable results. For example, TPRs (temporary price reductions) and digital coupons are highly visible both to the brand teams and retailers who want to closely monitor a specific program's success.
Shopper marketing campaigns typically perform better, or just a good compared to traditional trade promotions.  These programs are known for their low level of performance and hard to track their effectiveness.
Components of a smart shopper marketing strategy
To connect with shoppers, smart programs need to understand shoppers, use data to develop a good marketing mix, followed by driving measurable conversions.
Understanding shoppers individually is the first step in understanding the different needs of individual shoppers. There are many different types of individuals who shop for groceries, including those with children and special dietary needs. Understanding the different needs of shoppers is the first step in understanding how to best serve them.

Understanding shoppers individually
Brands need to gain insight into their target audiences to create a marketing strategy around shopper behavior. That means finding the most useful, relevant data and research.
A good plan typically focuses on those prior behaviors to predict a shopper's future purchases. When conducting or gathering shopper insights, you're not just looking at shopper behavior. You're also examining the attitudes that drive those behaviors.
Using the data to develop a marketing mix
Smart shopper marketing strategies focus on understanding your shopper's behaviors first and then connecting which channel is best the reach them based on their past habits and behaviors.
This requires an interconnected mix of online and in-store touchpoints to reach customers where they are at all points along their journeys to purchase—that includes the digital space.
Before you can use the data, you have to know what questions you should be asking. Where you get the data isn't as important as the questions that need to be asked—commonly referred to as the Who, What, When, Where, Why, and How.
Remember, you are using this insight to put together strategies and plans. So, you want to target one type of shopper— your ideal shopper—not all your shoppers. Again, this exercise doesn't have to be complicated. But, in the effort to really learn and analyze shopper behavior, it's critical to address these core questions.
Driving measurable conversions
To get an honest read on the success of your program, make sure your shopper marketing strategy puts in place identifiable metrics.
Digital shopper programs use digital channels (like ads, in-app messages, or displays) to connect with customers and track results. Often where I see teams struggle with results is when the success of a program is determined solely by sales lift.
However, it's not that simple. Your sales lift may not look satisfactory to the sales team, but what if the lift came from new shoppers? You can always learn something from analytics, and you will if you look closely.
What is the future of Shopper Marketing?
With the advent of e-commerce, click-and-pick-up shopping, and the increasing digitalization of the shopping experience, digital programs could arguably be the most important piece to any program.
According to FMI's 2021 Grocery Shopper Report, 52% of shoppers surveyed indicated they had bought groceries online in 2020, but in 2021, that percentage grew to 64%, with newcomers from every generation.
Digital shopper marketing can be one of the most cost-effective tactics in your marketing plan. Costs to reach 1,000 shoppers pennies on the dollar compared to expensive in-store tactics. But there's another layer on how you can target shoppers that makes digital shopper marketing so appealing to brands.
Much like shopper marketing in general, digital programs take all the data insights discussed earlier (especially from retailers) and can target shoppers in real-time.
Nearly every grocery retailer has an app that delivers brand-specific content to shoppers. However, for brands to capitalize on these digital platforms, it makes sense to make sure you optimize these campaigns to reach the "right" shopper.
If you have any questions or would like to learn more, let's talk!  Reach out to the NewPoint team or download Own the Cart: A Quick User Guide to Maximizing the Incredible Sales Potential of Shopper Marketing.