Busch Light + John Deere: A Partnership made in co-branding heaven?
In the middle of 2021, Busch Light announced that it would partner with John Deere, an iconic tractor company, to release limited-edition cans titled "For the Farmers" across the country. These cans feature the traditional Busch Light logo, the signature green-and-yellow color scheme of John Deere tractors, and the John Deere logo.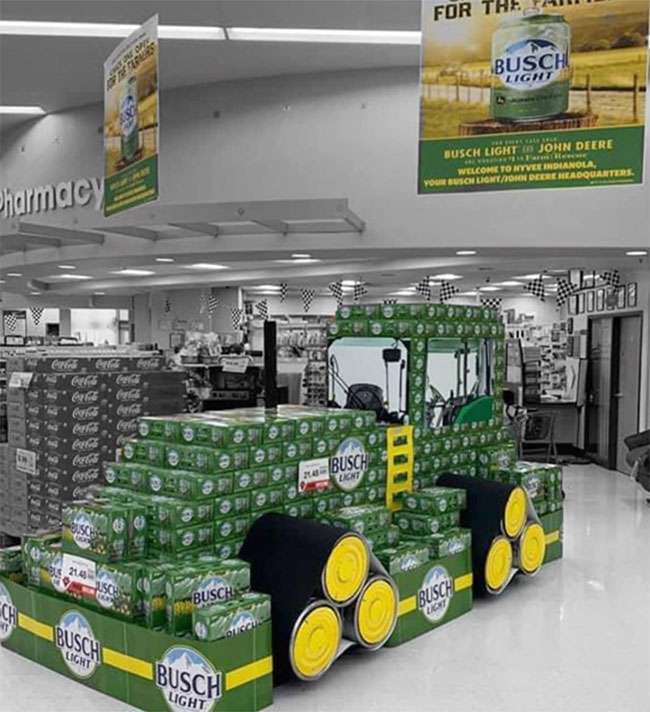 The initiative was conceived as a co-branding effort and a partnership for a specific cause. A portion of the proceeds from all cans sold would benefit a non-profit called Farm Rescue, which provides essential material aid to family-owned farms. In addition, Busch Light pledged to

donate $1 for each case sold, up to a maximum of $100,000.
In addition to the rollout of distinctively designed cans, the partnership featured an interactive fan experience called "Cornfield Cornhole." Orchestrated as an awareness campaign for Farm Rescue, Busch Light and John Deere worked together to host a free, one-day event in Big Bend, Wisconsin. There, fans could use a gigantic, ground-posted slingshot to catapult hay bales to an oversized cornhole-style board on the other side. Busch Light beverages and food trucks were also available.
Jenny Ose, Director of Marketing, Agriculture, and Turf, John Deere, said, "This collaboration presents an exciting, valuable opportunity to celebrate farmers, the ag industry as a whole, and the important work of Farm Rescue… We're thrilled to be part of this campaign because it supports Farm Rescue's mission and our farming communities across America."
Krystyn Stowe, head of marketing for Busch Family Brands at Anheuser-Busch, said, "The 'For the Farmers' can mark a legendary union of two iconic brands with a shared passion for supporting farmers and the great Heartlands of America… We knew that John Deere was the perfect companion to join forces with us as we bolster our shared efforts to support the farming community that is so important to us."
Why the Partnership Works
Why does this partnership work so well? Both brands enjoyed significantly increased visibility, higher sales, and the generation of ample funds for an important cause. How did they achieve this?
     

The inherent value of co-branding.

First, we need to understand the intrinsic value of co-branding. Branding itself is powerful; simply including your logo, tag line, colors, voice, and values across all your marketing materials will increase recognizability and loyalty within your fan base. By co-branding, you'll provide recognition and familiarity opportunities to a shared audience. Audiences that are familiar with both brands are going to be delighted to see those brands working together. Audiences loyal to one brand but only vaguely familiar with the other will instantly think more highly of the other brand. And if any members of your audience aren't familiar with one of the brands, this is their chance to get their first exposure.

     

Busch Light's true focus.

Busch Light has enjoyed repeated marketing success recently because of its

hyper-focused advertising to its target demographics

. Rather than adopting a "spray and pray" approach, in which you spam your messaging to the biggest audiences possible, Busch Light only focused on the people most likely to buy its products. This partnership opportunity was a critical chance to appeal to farmers, blue-collar workers, rural residents, and other segments of their market. It worked out well for them.

     

Overlapping demographics.

It also helps that these two brands have overlapping demographics. John Deere must appeal directly to farmers and people involved in the agricultural industry. These people often live in rural environments, they perform physical jobs, and they enjoy the simple things in life; the target audience for Busch Light overlaps almost perfectly with this.

     

Charitable ties.

Consumers everywhere are increasingly interested in brands that positively impact the world. Rather than only buying products based on how valuable or inexpensive the product is, people are willing to spend more and make compromises for brands they know are supporting a good cause. That's where the charity angle comes into play. This wasn't just a generic co-branding effort; it was an opportunity for both brands to support and raise awareness for Farm Rescue.

     

Fan engagement.

On top of that, the co-branding effort and advertising campaign was neither passive nor disconnected from fans; it directly engaged with fans. Thanks to the Cornfield Cornhole event, fans got an opportunity to meet each other, post on social media, and have a good time in person in Wisconsin. In addition, people all over the country got to see this event unfold in real-time. Increasing engagement levels means more relevance to individuals – and a much more significant impact.

     

Social media opportunities.

This campaign was also successful because it was promoted across various marketing channels. Perhaps the most notable channel was social media, where people could share their experiences, reflect on the partnership, and see new content related to the collaboration between these influential brands.
Key Lessons for You
So what are the key takeaways for you and your food and beverage business?
     

Better understand your audience – and cater to them.

Your marketing and advertising strategy will become much more potent as you understand your audience. It's not enough to gamble with a big, sweeping generic strategy. You need to understand who your demographics are and how they think if you want to cater to them.

     

Use charitable opportunities and events to engage people.

Working with charities and supporting good causes will earn you significant trust and loyalty. This principle stands no matter your target audience – though different audiences may support different causes.

     

Don't shy away from co-branding.

Some brands are afraid of partnering with other brands because they don't want competition or because they don't want to compromise their brand image or values. But this may be a mistake. Cobranding is a powerful opportunity for both participating brands. Consider reaching out to a noteworthy brand with a similar target audience as yours – or even reach out to an indirect competitor.
Are you interested in starting a new marketing initiative of your own? Or are you struggling with the market research necessary to elevate your food and beverage marketing? Then, you're in the right place. Check out our free eBook on shopper marketing, Own the Cart, or contact us directly for more information today!