Core Brand Values of a Food Business
Plus, Why You Need a Statement Alongside Your Mission and Vision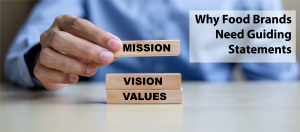 Your food business needs a core values statement alongside its mission and vision statements because it helps outline clear expectations for your leadership and employees to emulate while working toward the food brand's overall mission. You never want your employees to feel aimless.
A core values statement clearly defines your food brand's company culture, and while that can be hard to pin down if you think about how your top performers act while at work, identifying core values they all share should come relatively quickly.
As your food brand's executives outline the business's core values, remember your values statement should be 3 things:
Simple and easy to remember, yet specific
Guiding in terms of behavior, yet attainable
Non-negotiable
To help jump-start your food brand's core values statement, here is a list of common brand values:
Integrity
Boldness
Honesty
Trust
Accountability
Commitment to Customers
Passion
Fun
Humility
Continuous Learning
Ownership
Constant Improvement
Leadership
Diversity
Innovation
Quality
Teamwork
Simplicity
If your food brand has concrete core values, it'll become known as a great place to work.
Examples of companies with great values statements
Google
Focus on the user and all else will follow.
It's best to do one thing really, really well.
Fast is better than slow.
Democracy on the web works.
You don't need to be at your desk to need an answer.
You can make money without doing evil.
There's always more information out there.
The need for information crosses all borders.
You can be serious without a suit.
Great just isn't good enough.
Google's core values are listed out clearly and concisely. There's no room for interpretation. And while these values speak to the company's culture, they also have impact. The language used here is motivating, which is why brands need guiding statements. The underlying motivation and passion-infused into values statements are why having a values statement alongside mission and vision statements is critical. Motivation and passion are guiding emotions, hence why your food brand needs them in their guiding statements.
Starbucks
With our partners, our coffee and our customers at our core, we live these values:
Creating a culture of warmth and belonging, where everyone is welcome.
Acting with courage, challenging the status quo and finding new ways to grow our company and each other.
Being present, connecting with transparency, dignity and respect.
Delivering our very best in all we do, holding ourselves accountable for results.
We are performance-driven, through the lens of humanity.
Starbuck's values statement aligns so well with its mission "To inspire and nurture the human spirit — one person, one cup and one neighborhood at a time." 5 values, well listed out and connecting to each aspect of the mission statement. For each person, "everyone is welcome" is what starts off the values statement. Having values in order of the mission statement makes it easy for readers — employees, or consumers like you and me — to grasp why and where these values fit into the everyday workings of Starbucks. Next, they move on to "neighborhood" in point 2, followed by more general values that can speak to all aspects of their business.
If you have any questions or would like to learn more about guiding statements for your food brand, please reach out to the NewPoint team. If you are interested in more food marketing topics, please visit our Food for Thought page or check out NewPoint's Patrick Nycz's book: Moving Your Brand Up the Food Chain.