How Do Food Brand Vision Statements Differ from Mission Statements and Why Does My Brand Need One?
Mission statements answer where your food brand is now. Food brand vision statements answer the question of where your food brand wants to go. You will first need a mission statement before you write a food brand vision statement. Check out our blog here for how to start your mission statement.
| | |
| --- | --- |
| vision | mission |
| For employees | For employees & PR campaigns |
| Can be public or private | Always public |
| States where a company is going | States where a company is now |
If you already read Part 1 of this series, you already know about the do's and don't of food brand mission statements. Assuming your food brand's executives have already brainstormed and pinned down the company's mission statement, my next assumption is that you're motivated to continue thinking about the future of your food brand. This will become the food brand vision statement. As you think about your food brand's future, remember to answer these 3 questions and avoid these common pitfalls as you develop your food brand's vision statement.
A Food Brand's Vision Statement does 3 Things:
Sets the direction for business planning
Provides a focus for marketing strategy
Articulates hopes and dreams for where your food brand wants to go
A Food Brand's Vision Statement does Not:
Include specific milestones
Include revenue goals or strategies for achieving those goals
Is not tied to details
Remember: How does this vision set you apart from your competitors?
It might help to think back to your original motivations for launching your food brand. Think about what you imagined for your concept, and what that might mean to other people.
Examples of excellent food brand vision statements:
The Kroger Co.
Our Purpose is to Feed the Human Spirit.
While Kroger uses different language by choosing "Purpose" instead of "Vision," it still conveys the future goals of the grocery store. The vision statement still tells what services Kroger provides, and has a feel-good tone about it. Kroger's vision statement goes with its mission statement and guides the company as it should.
Starbucks
to establish Starbucks as the premier purveyor of the finest coffee in the world while maintaining our uncompromising principles while we grow.
This food brand vision statement is getting there! Starbucks is a super well-known food and beverage brand, and its vision statement is clear, concise, yet inspiring. It leaves room for growth, but it could be even better by not limiting itself to coffee. Starbucks has expanded its product lines with bakery items and merchandise, which should be included in the food brand's vision statement.
McDonald's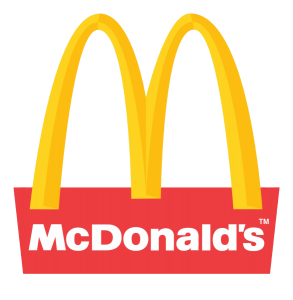 To be the best quick service restaurant experience. Being the best means providing outstanding quality, service, cleanliness and value, so that we make every customer in every restaurant smile.
Out of the 3 vision statements we've shared, this one is the best. It's the best because McDonald's defines what "best" means for them. By doing this, McDonald's vision statement is easily understandable and provides measures for success.
Stay tuned for Part 3 of Why Food Brands Need Guiding Statements! These are just 3 examples of great food brand vision statements. If you have any questions or would like to learn more about guiding statements for your food brand, please reach out to the NewPoint team. If you are interested in more food marketing topics, please visit our Food for Thought page or check out NewPoint's Patrick Nycz's book: Moving Your Brand Up the Food Chain.