One in three US consumers are looking for foods that will help them achieve weight loss or weight management goals.
Products marketed as "natural", "healthy" and "better for you" are capturing the food industry. Now more than ever, people are connecting functional foods with longer, healthier lifespans and acting on it. Consumers are becoming more educated. Retailers are diversifying their portfolio by incorporating smaller, more innovative companies.
Dietician Lizzie Kasparek states, "People are interested in their health, and if they can pay the price pay for the option that has added fruits and vegetables, or added omega-3 or added probiotics, (they) are looking for those different packages that make it seem like they are getting benefits from those foods."
Consequently, the global functional foods and beverages market is expected to grow close to 8% annually through 2021.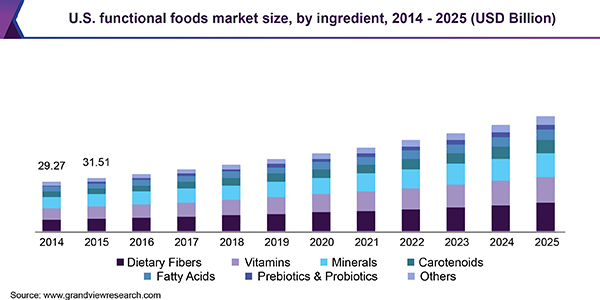 This is a movement you want to hop on board. But what does this look like for your brand?
This doesn't mean you need to shy away from focusing on your staple product. Instead, start looking into introducing additional products that appeal to this growing customer base.
Several companies have had great success with substituting vegetables and other superfoods into already- popular retail items. Grocery stores are diversifying their shelves by filling them with items such as plant-based milk and meat, zucchini noodles and more.
It's clear that companies big and small are conforming to this shift in health cognizance. However, a recent report found that companies aren't doing enough to keep up with the increasing demand for nutritional meals and snacks.
The food industry is undoubtedly moving in this direction, so why not be at the forefront?
Lead the growth of probiotics, collagen, protein, and plant-based foods and beverages. There's a lot to learn in this field. Real success stories tap into emerging consumer trends and nearly always start small and build momentum gradually. After all, most big brands in health and wellness didn't start the way they are now. They came from small, entrepreneurial companies that grew with the help of introducing and capitalizing on their functional foods.
If you have any questions or would like to learn more about this topic, please reach out to the NewPoint team. If you are interested in more food marketing topics, please visit our Food for Thought page or check out NewPoint's Patrick Nycz's book: Moving Your Brand Up the Food Chain.