Invest in a CPG Photoshoot
First Things First. . .
Stock Photography vs. a CPG Photoshoot of Your Actual Product

Investing in good photography of your actual product is paramount for its success or failure. You would think this would be a "no-brainer."
You would think.
However, many (many!) companies rely heavily on stock photos, and—don't get me wrong—there are some great stock photos out there. Please take advantage of them where you can, but be cognizant that you shouldn't always rely on them as your sole source for imagery, especially when it comes to showcasing your CPG product. After all, if your bacon is the most 'beefy' bacon on the market, chances are you will not be able to convey the exact "beefiness" of the bacon using stock imagery. Hence the need for a CPG photoshoot of your products.
Surprisingly, photography is considered (if it's even considered at all) a sometimes frivolous expense. Many companies underestimate the need for photography when planning where to spend their marketing dollars. Yet, it is necessary to convey a higher brand image, build brand cohesiveness, and build trust with your consumer.  Just read about it here in our blog on this very same subject.
Now that we have your attention, and we have armed you with the deets on the importance of planning for and shooting your own images, it's time to tell you how to get the most out of your CPG photoshoot.
FIRST:
Planning & Research
Chances are you're going to invest a nice chunk of change into a quality CPG photoshoot—so doing your research and planning first are of the utmost importance. Utilize your agency and have your art director do this for you. If you get this part wrong, it could be all downhill from here.
It all starts with researching photographers, yes, before you even think about your budget (especially if you are new to this concept of spending money on a photoshoot). You will need to research so you know what the going rate is in the market for these services. Once you've done some preliminary "window-shopping" and understand what an acceptable range is for this marketing service, now it's time to work on budgeting the dollars to make it happen.
SECOND:
Choosing the Right Photographer
If you are reading this blog, you likely have a CPG food product to market. Meaning, you will want to choose a photographer who specializes in photographing food. They know how to make your product look fantastic, and they also know all the tricks for doing so. You will want to enlist your art director at this stage in the game if you haven't already (and if your company has one). . bonus, we do! Having this superhero, er, person, at your side will make your [client's] job solely to convey your needs. From here, the super-human creative genius of the art director will take off and flourish with ideas on how to show off your product to the consumer, and in turn, create loyal fans and lovers of your brand.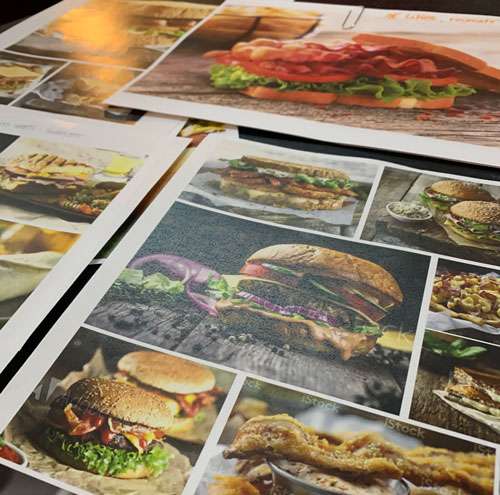 The art director will research everything from your competitors and how they approach their products, the message you want to convey within your product line—the look and feel of everything from lighting to angles to what colors, props, and textures to use in your shots. The result of this feverish research will culminate into what we like to call a mood board—basically a selection of photo inspirations, textures, color, etc., all to make sure you go into the shoot with a clear vision. Think of the mood board as a visual road map for the shoot's direction.
THIRD:
To Food Stylist or Not To Food Stylist?
That is the question. Some companies find this a frivolous waste of resources. I hate that I even had to utter those words because it is simply not true. Listen to your art director. A good food stylist can elevate your product to such a level of beauty that even you couldn't dream possible—all while keeping it as appealing as possible without losing sight of what the product is really supposed to look like. Don't break Rule #2 in the six rules to getting your packaging shelf-ready.
Bonus. . .if you find the right food photographer, chances are they already have relationships with some highly-skilled food stylists, and they can help navigate or even supply that service for you. This is helpful when it comes to coordinating the schedule of both parties.
FOURTH: Create a Shot List

I cannot stress this enough. Creating a shot list will make the process seem effortless once you have ironed out all the details. From lighting to angles, backgrounds, image purpose, and everything in between (ahem, reference your mood board), the perfectly planned shot list becomes the "Bible" to your product's big day at the shoot. Your art director can also do this for you.
Plan accordingly. Know your product needs and what you expect to get out of your CPG photoshoot. Be sure the whole team has your shot list, and everyone is on-board with the strategy for the day(s) ahead. The photographer will do their work, along with the stylist, to ensure that they are prepped and ready to go. Doing your part upfront and giving them the directives and expectations they need will help your shoot go smoothly.
Those are the first four steps to getting the most out of your CPG photoshoot.
"But we aren't even at the shoot yet," you say?!…
Stay tuned for PART 2 of this series to learn how to maximize efficiency during the shoot!
At Newpoint, we do the heavy lifting for our clients—choosing the right photographer and food stylist with experience in capturing products similar to yours. Want to learn more about a CPG photoshoot or our food marketing firm? Please reach out to the NewPoint team. If you are interested in more food brand marketing topics, please visit our Food for Thought page or check out NewPoint's Patrick Nycz's book: Moving Your Brand Up the Food Chain.